Many people don't know how much the design of headphones affects their sounds or how that translates into gaming, which leads to buying the wrong pair without knowing what went wrong.
While closed-back headphones are more popular, open-back ones provide exactly what gamers need. The open-back design has exposed earcups, which results in an open soundstage with more accurate and natural sound reproduction.
So, if you want to hear the noises, dialogues, and details inside your game like you're inside the game, consider our list of the best open-back headphones for gaming.
Comparison Table Open Back Gaming Headset
| | | | | |
| --- | --- | --- | --- | --- |
| Product | Type | Mic | Frequency Response | Wired |
| EPOS Sennheiser GAME ONE | On-ear | Yes | 15 – 28,000 Hz | Yes |
| Sennheiser HD 599 SE | Over-ear | No | 12 – 38,500 Hz | Yes |
| Audio-Technica ATH-AD700X | Over-ear | No | 20 – 20,000 Hz | Yes |
| Beyerdynamic 459038 DT 990 PRO | Over-ear | No | 5 – 35,000 Hz | Yes |
| HIFIMAN Deva | Over-ear | Yes | 20 – 20,000 Hz | Yes + USB + Bluetooth |
Why Do You Need to Buy Open-back Headphones for Gaming
More Breathability
One of the biggest advantages that open-back headphones over their closed counterparts are breathability. Open-back headphones have exposed earcups, and you can see the drivers vibrating through the mesh.
This design prevents the heat accumulation that closed-back headphones cause, so you won't find yourself needing to take off your headphones every half an hour and interrupting your gaming session.
Ambient Awareness
Everyone enjoys living in their own world with their headphones from time to time. However, open-back headphones provide you with ambient awareness that allows you to be aware of your surroundings so that you're not too sucked into your game that you don't hear the doorbell or phone ring.
Also, gamers don't just want to hear the game; they want to hear themselves speak for hassle-free in-game communication, as well. You don't want to take one earcup off every time you speak.
Wider Soundstage
A wider soundstage is something that both gamers and audiophiles are after, which is the positioning of sounds, vocals, and instruments in audio.
If you're playing an open-world game, a wide 3D sound distribution will enrich your gaming experience, help you locate where every noise comes from, and make all the sounds feel more realistic.
The 5 Best Open-back Headphones for Gaming in 2022
Now that we've introduced you to the reasons you need them let's delve into each one of our top picks and what they can do for you.
1. EPOS Sennheiser GAME ONE – Best Overall
The EPOS Sennheiser GAME ONE gaming headset is the best thing that gamers can have because it has a noise-canceling mic, comfortable ear cushions, built-in volume control, high fidelity sound, and a two-year warranty.
The reasonably-priced headset looks exactly like you'd expect a premium gaming headset to. Its black color and red trimming look nice without being over-the-top like cheap headsets do. Sennheiser really likes its luxurious-looking earpads and headbands.
It feels lightweight due to the high-quality plastic used, yet it is sturdy and durable. Also, the plush velour ear cushions are comfortable and soft but breathable, so you won't be annoyed with sweat mid-game. Also, the cushioned headband is gentle on the crown of your head.
This headset boasts volume controls on the right earcup for seamless and quick volume adjustments mid-game.
In addition, the headset comes with a built-in, noise-canceling mic with a flexible boom arm that establishes this headset as a true gamer companion. Thanks to this mic, your voice will be crystal clear on the other end. Plus, you can lift the boom arm to mute the mic for extra convenience.
Thanks to the bass extension and frequency response of 15 to 28,000 Hz, this headset has a neutral frequency response that doesn't alter the sounds. Instead, it delivers them to you the way they were meant to be heard, including all the details for instant in-game reactions.
All that being said, there is one downside to this headset, which is that the mic is not removable. So, you can't use it as normal headphones outside.
Pros:
Reasonably priced
Built-in volume control
Plush velour ear cushions
Noise-canceling microphone with lift-to-mute feature
Two-year warranty
High fidelity sound
Padded headband
Cons:
Bottom Line
The EPOS Sennheiser GAME ONE headset is a win for gamers who want a high fidelity sound, convenient controls, and comfortable wear.
2. Sennheiser HD 599 SE – Runner-up
The Sennheiser HD 599 SE headphones bring a near-audiophile quality to the gaming community.
Starting with the design, the HD 599 SE looks and feels premium, thanks to the luxurious velour earpads and matte metallic silver accents. Also, the way the headband envelopes the earcups is unique to live up to the headphones' unique performance. Plus, they come in the standard Sennheiser black and ivory color choices.
In terms of comfort, the HD 599 SE is an upgrade from the HD 598. The headband now is more padded with premium leather that makes the headphones more comfortable to wear. Also, the large oval earcups come with replaceable, plush velour earpads. Also, their high-grade plastic construction means that they're lightweight and comfortable to wear for prolonged periods of time.
Thanks to the premium transducers, there is a very little distortion or over-exaggeration of highs or lows. In fact, these open-back over-ear headphones provide a natural, spatial sound with a frequency response range from 12 to 38,500 Hz. So, the mids and treble are bright.
If connectivity is a concern, the HD 599 SE won't disappoint. It comes with two detachable cables: one is a three-meter cable with a 6.3mm jack for home use and the other 1.2-meter cable with a 3.5mm jack for portable use.
All that being said, the HD 599 SE is two features away from being the perfect gaming headset, which is a built-in mic and an above-average bass.
Pros:
Two-year warranty
Two detachable cables
Two color options
Plush velour ear cushions
Padded headband
Stylish
Excellent frequency response
Cons:
No built-in mic
Mediocre bass
Bottom Line
The Sennheiser HD 599 SE headphones are superior to most with their premium construction, excellent frequency response, and versatile connectivity.
3. Audio-Technica ATH-AD700X – Budget Pick
Not all gamers have the luxury to spend on every new pair of headphones, and that's okay. So, consider the affordable Audio-Technica ATH-AD700X headphones that save the day.
This pair has an interesting design at first glance. Its peculiar self-adjusting 3D wing support offers a design that minimizes pressure on the head.
Also, flexible raised-fabric earpads provide budget-friendly comfort. The earcups are covered with a lightweight aluminum honeycomb casing that improves the acoustic performance, just like it adds to the aesthetics.
As you can see from the frequency range of 20 to 20,000 Hz, the headphones reproduce clear mids and treble that will make the sounds in your story-based game come alive.
Also, the headphones come with a highly conductive OFC single-sided cord that has an elastic TPE sheath to prevent the infamous tangles of wired headphones. The gold-plated 3.5 mm connector also comes with a 6.3mm adapter for your cross-platform connectivity needs.
However, this pair has two downsides. Firstly, it doesn't come with a built-in mic, although you can easily get a compatible ModMic. Secondly, while the mids and treble are impressive, the bass sounds weak in comparison, and bass lovers will be disappointed.
Pros:
Affordable
Clear mids and treble
Flexible raised-fabric earpads
Self-adjusting 3D wing support
Cons:
Bottom Line
The Audio-Technica ATH-AD700X headphones are the best choice for affordable gaming with a comfortable fit.
4. Beyerdynamic 459038 DT 990 PRO – Best for Studio Quality
If you're looking for quality gaming headphones that have studio-quality, look no further than the Beyerdynamic 459038 DT 990 PRO headphones.
The reasonably priced open-back pair looks interesting, but not aesthetically pleasing or anything fancy. It comes in two different color options. However, the design is extremely functional.
The rugged metal frame and spring steel headband ensure that you won't be replacing the headphones anytime soon. While the earcups are made from plastic, they don't feel cheap.
In terms of comfort, this pair isn't messing around. The steel headband has removable padding that puts you in control of your comfort. Also, the earpads are covered with velour to be soft on the ears.
The best aspect of this pair is its sound quality, which comes as no surprise since the headphones were mainly made for studio monitoring. The open-back design and 5 to 35,000 Hz frequency response team up to deliver a balanced sound, spacious sound representation, and outstanding tonal depth that help you position exactly where the audio clues come from.
In addition, the headphones come with a supple single-sided cable, which is practical and doesn't get tangled with other cables.
That being said, there are two downsides. Firstly, despite the excellent sound quality of the headphones, they're not the loudest and you may need an amp if you want a seriously loud sound. Secondly, the single-sided cable is non-detachable.
Pros:
Reasonably priced
Balanced sound
Durable construction
Padded headband and velour earpads
Two color options
Cons:
Not the loudest
Cable is non-detachable
Bottom Line
The Beyerdynamic 459038 DT 990 PRO headphones balance a studio sound quality, durable construction, and comfortable wear.
5. HIFIMAN Deva – Most Versatile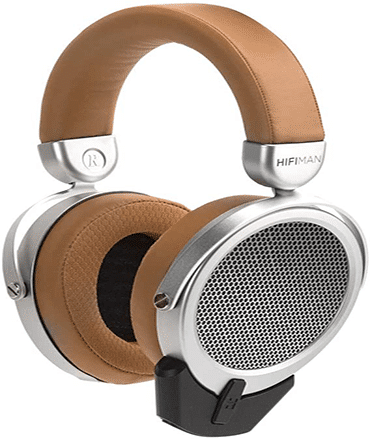 The HIFIMAN Deva headphones let you decide how you want to be connected to your device.
The headphones look breathtaking and take after their name. They will definitely remind you of luxury cars. The tanned leather is beautiful and the silver couldn't compliment it better. You can show them in a gaming Youtube video and expect all subscribers to ask you where you got them from.
The camping force of the headphones is loose enough to be comfortable but not too loose that it's problematic. Also, the combination of leather and velvet in the earpads is soft on the ears.
In terms of sound, these open-back headphones don't disappoint. The wide soundstage is exactly what you need while gaming. The bass and treble are clear, while the mids are neutral.
The headphones give you all possible connectivity options: cable, Bluetooth, and USB. so, you can wear them to game anywhere on any device. Also, the 7-hour battery life is not so bad.
However, they have disadvantages. The high price tag can't go unnoticed. Plus, the price doesn't even include a carrying case.
Pros:
Luxurious look
Connects via cable, Bluetooth, and USB
Good battery life
Wide soundstage
Cons:
Expensive
No carrying case
Bottom Line
The HIFIMAN Deva headphones excel at looking the best while being the most versatile.
How to Pick Open-back Headphones for Gaming
You may be an amateur looking for help to get in the game, no pun intended, or a pro gamer who already knows what they want. Either way, here are the most important features to consider before you buy your next gaming companions.
Type
Gaming headphones tend to either be the on-ear or over-ear type. Each type has its devoted fans and contexts in which they're the best choice.
On-ear
On-ear headphones have their earcups standing flat on the outside of the ears. They are highly compact and lightweight. However, they don't offer much sound isolation, and gamers with larger ears tend to be uncomfortable with them.
Over-ear
On the other hand, over-ear headphones have earcups that completely surround the ears. This design offers perfect sound isolation, which is ideal when you're gaming in a noisy environment. However, these headphones tend to be the least portable.
Durability
Nobody understands how important it is to wear durable headphones while gaming until they break their own after two weeks of use. A lot of gaming headphones are made from cheap, low-quality plastics, which makes replacing them happen more often than it should.
Since gaming sessions are typically longer than music listening and more demanding, you need to invest in some quality headphones that last long.
Look for headphones that incorporate metal in their frames, headbands, and earcups. If you can only afford plastic, consider high-grade parts for a sturdier feel. A reliable warranty never hurts, either.
Comfort
Gaming sessions can last for hours, so a comfortable pair of headphones is essential for every hardcore gamer.
The headband can make or break your gaming experience. Some headbands weigh down on the crown of the head, which will be unbearable the more you wear it. So, lightweight and adjustable headbands are the way to go.
Also, make sure that the earcups don't put too much pressure on your ears and that their materials will be gentle on them. Think of memory-foam velour earcups and how comfortable they feel.
Stereo vs. Surround Sound
Stereo headsets distribute sound over two audio channels only, which are the right and left speakers. Their sound quality is impressive. Also, they tend to be compatible with more platforms than other types.
On the other hand, surround sound headsets add more audio channels to simulate sound coming from different directions for a more immersive experience, which is why they're highly favored in the gaming community.
Some people prefer stereo sound systems, while others prefer to surround sound ones. It all depends on your personal preference and the kind of games you'll play.
Frequency Range
The frequency range of your gaming headset matters because it reflects whether it will be able to reproduce the sounds of the game or not. Also, you need to decide whether or not you want a neutral sound, more powerful bass, or sharper trebles.
Communications
There are two ways that you can communicate with your teammates or friends in a game: through a gaming headset or headphones with a mic.
The best gaming headsets have maneuverable mics to adjust them according to your comfort. They can also be detachable, which is great if you want to remove the mic when you don't need it. Also, a noise-isolating mic is a godsend because it transfers your voice clearly without including the unwanted ambient noise.
Some built-in mics have pretty useful features such as lift-to-mute, which saves you a lot of time mid-game. Also, built-in mics that have volume controls are excellent for quick volume adjustments.
If you can't find a good pair of headphones that have built-in mics, you can purchase the pair that you like and combine them with a ModMic for a perfect gaming set.
FAQs:
Do Open-back Headphones Sound Better?
They sound more realistic, and their open design allows the acoustics to shine. The airy quality of open-back headphones makes them sound better and be more suitable for gamers and audiophiles alike.
Are Open-back Headphones Better for Gaming?
While preferences differ, open-back headphones have a lot to offer for gamers. Their wider soundstage makes the gaming experience more immersive and multi-dimensional. Also, they don't trap heat over the ears, which makes wearing them more comfortable.
Can You Use Audiophile Headphones for Gaming?
There are many audiophile headphones that gamers love because they make the game sound clearer. The high-fidelity and high-frequency range of their sound reproduction make the sounds in the game feel more lifelike.
Final Thoughts
As you can see, the EPOS Sennheiser GAME ONE headset is our top pick because it caters to all gamer needs.
It has a reasonable price for what it provides. The design, comfort, and durability it offers are worth it. Also, it has a noise-canceling mic with a flexible boom arm that you can use to mute it. Finally, it reproduces sound with high fidelity, which helps the gaming experience come alive.